Ya hacia meses que no ponia nada de los simpson eh! Ese fue uno de los temas principales del blog en sus inicios, asi que en honor a las mas de 30,000 visitas voy a poner alguna de las miticas frases de la serie, but I´m sorry, in english!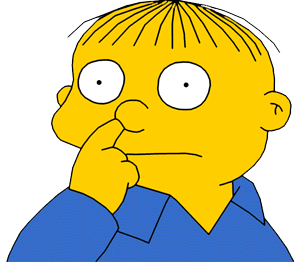 Homer: Oh, so they have internet on computers now!

Moe: Hi, my name's Moe. Or as the ladies like to refer to me, 'hey you in the bushes'
Marge: I think you should do it, Homer, you might learn something new!
Homer: Oh, Marge, whenever I learn something new, it pushes some old stuff out. Remember that time I went to those duff brewery classes and I forgot how to drive?

Burns: I suggest you leave immediately
Homer: Or what? You'll release the dogs or the bees? Or the dogs with bees in their mouths and when they bark they shoot bees at you?

Homer: Son, when you participate in sporting events, it's not whether you win or lose: it's how drunk you get.

Ralph: Me fail English? That's unpossible.
Grandpa: Are we there yet?
Homer: No
Grandpa: Are we there yet?
Homer: No
Grandpa: Are we there yet?
Homer: No
Grandpa: ........Where are we going?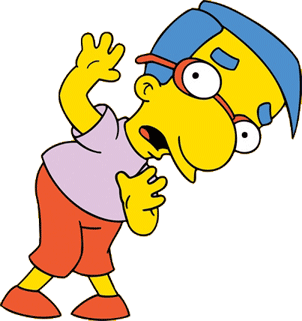 Milhouse: But I'm All Milhouse! Plus, my mom says I'm the handsomest guy in school!

Homer: Son, a woman is like a beer. They smell good, they look good, you'd step over your own mother just to get one! But you can't stop at one. You wanna drink another woman!

Bart to Milhouse: How can someone with glasses so thick be so stupid?
Homer: Aw, twenty dollars! I wanted a peanut!
Homer's Brain: Twenty dollars can buy many peanuts!
Homer: Explain how!
Homer's Brain: Money can be exchanged for goods and services!
Homer: Woo-hoo!

Homer: Kids, you tried your best and you failed miserably. The lesson is, never try.
Ralph: Mrs. Krabappel and Principal Skinner were in the closet making babies and I saw one of the babies and then the baby looked at me.
Homer: From now on, there are three ways to do things: the right way, the wrong way, and the Max Power way.
Bart: Isn't that just the wrong way?
Homer: Yeah, but faster!
Carl: Oh no! Homer's going over those falls!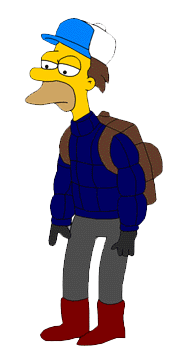 Lenny: Oh good! He snagged that tree branch.
Carl: Oh no! The branch broke off!
Lenny: Oh good! He can grab onto them pointy rocks!
Carl: Oh no! Them pointy rocks broke his arms and legs.
Lenny: Oh good! Those helpful beavers are swimming out to save him!
Carl: Oh no! They're biting him, and stealing his pants!

Moe: People today are healthier and drinking less. You know, if it wasn't for the junior high school next door, no one would even use the cigarette machine.
Homer: [Looking at a globe map...country being Uruguay]
Hee hee! Look at this country! 'You are gay.'
Chief Wiggum: They only come out in the night. Or in this case, the day.

Scully: Homer, we're going to ask you a few simple yes or no questions. Do you understand?
Homer: Yes. (lie dectector blows up)
Homer: If The Flintstones has taught us anything, it's that pelicans can be used to mix cement.

Ralph: My cat's breath smells like cat food.
Principal Skinner: That's why I love elementary school, Edna. The children believe anything you tell them.

Homer: Bart, with $10,000, we'd be millionaires! We could buy all kinds of useful things like...love!

Ralph: Even my boogers are spicy! (booger = moco)
Homer: The problem in the world today is communication. Too much communication.

Marge: Homer! There's someone here who can help you...
Homer: Is it Batman?
Marge: No, he's a scientist.
Homer: Batman's a scientist?!
Marge: It's not Batman!

Hans Topo: Drinking has ruined my life. I'm 31 years old!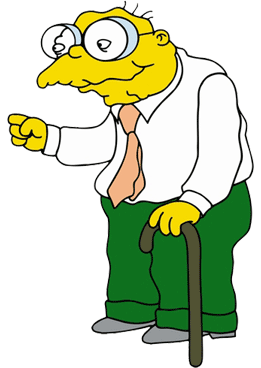 Homer: Marge, it takes two to lie. One to lie and one to listen.

Homer: Are you saying you're never going to eat any animal again? What about bacon?
Lisa: No.
Homer: Ham?
Lisa: No.
Homer: Pork chops?
Lisa: Dad, those all come from the same animal.
Homer: Heh heh heh. Ooh, yeah, right, Lisa. A wonderful, magical animal.
Homer: Operator! Give me the number for 911!

You can check it out every simpson quote
here